Chiang Mai Food
---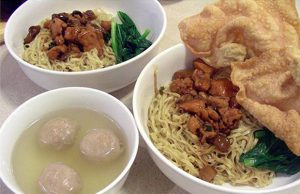 One of the greatest pleasures of traveling is trying different cuisines, and if you're considering a trip to the Chiang Mai region of northern Thailand, you'll be pleased to know that Chiang Mai food is absolutely wonderful.
Places to eat are plentiful, and you can make your choice from one of the numerous street stalls serving traditional and truly delicious food (incredibly cheaply), to one of the exclusive (and much pricier) restaurants, many of which are located within some of the more up-market hotels.
Many would say that the street food in Chiang Mai is the best way to enjoy the genuine Thai food of the region, and the only way to experience – first-hand – the hustle and bustle of the local people, their charm and their customs. Street stalls, where the food is cooked freshly to order, is a great way to try Chiang Mai food for the first time. Head for the busier stalls to see what's on offer – if you don't like the look of what's cooking – simply move on to the next.
As a general guideline, if a food stall or restaurant isn't busy, but others around it are, it's probably best not to eat there. Likewise, if a stall or restaurant is popular with the locals, that's a pretty good indication that the food is going to be good.
There are so many different dishes to choose from on Chiang Mai food stalls that you'd be forgiven for not knowing where, or with what, to start. With this in mind, a traditional dish called Khao Soi could be just the thing to kick off your Chiang Mai food experience.
Khao Soi is a dish which is popular with locals and tourists alike, and you will see many stalls in Chiang Mai selling this delicious, spicy dish. The base of Khao Soi is a curry flavored broth with egg noodles and typically, either chicken or beef. Pickled Chinese cabbage, shallots, limes, cilantro, turmeric, a paste of ground chilies and garlic, coconut milk and crispy fried egg noodles to garnish, are just some of the other ingredients which go towards making up a truly tasty and hearty bowl of Khao Soi.
Whether you choose to eat at street stalls or in restaurants, you can be sure that the ingredients for your meal will be shopped for at the local fresh food markets, all of which become a hive of activity long before the sun comes up. (If you're interested, a great market to browse around is the Muang Mai market, which is an extremely popular Chiang Mai food market, frequented by numerous food suppliers, locals and tourists).
Every day, restaurateurs and street vendors will be found shopping for staples, such as rice and noodles, along with all the accompaniments and seasonings required to create culinary magic later on in the day.
Likewise, fresh produce such as bamboo shoots, eggplants, Chinese cabbage, mustard greens, bean sprouts, soybeans, mushrooms, asparagus, fish, meat and shellfish are amongst the ingredients which are purchased on a daily basis.
Also on the shopping list will be herbs, spices and flavorings such as garlic, shallots, cilantro, lemon grass, galangal, kaffir lime leaves, chilies, ginger, mint, basil, fish sauce, shrimp paste, limes, tamarind, oyster sauce, soy sauce, soybean paste, coconut milk and palm sugar. These are all key ingredients in Thai cuisine and no Thai cook worth his salt would be without them.
In general, Thai food has five elements, hot, sweet, sour, salty and spicy and those who are experienced in Thai cookery can create wonderful dishes which balance all these elements beautifully.
If you visit Chiang Mai, you may like to try the traditional northern style of dining, known as Khan Toke. Typically served on a small circular pedestal set upon a table, Khan Toke comprises numerous dishes of wonderfully contrasting flavors and textures, for example; fried pumpkin, beef curry, fried chicken, meltingly tender pork with a crispy skin and stir fried greens, all accompanied by dishes of sticky rice, spicy chili sauces (some mild, some fiery), sweet and sour dips, cooling slices of cucumber and bowls of crispy noodles.
If you want a real Chiang Mai food experience, a Khan Toke meal is highly recommended.
It goes without saying that there are many things to do and see in Chiang Mai, but if you love to eat, Chiang Mai food will certainly not leave you disappointed!Kuliner kota Malang